true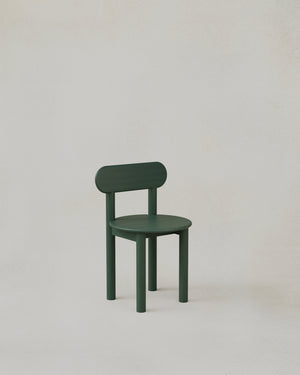 Tide Dining Chairs
The solid oak Tide Dining Chair is the sum of six rounded forms coming together in a playful composition. The chair is designed to accompany the Tide Dining Tables—the chair's back and seat rest follow the lines of the tabletop and are rounded along their edges to impart a soft and inviting feeling. Solid oak legs are cut in thick proportions to stand like tree trunks under the seat, supporting the form and seemingly growing up through it via notch details cut into the back legs.
The Tide Chair's use of natural materials and honest, well-crafted structure nod to the Shaker design movement, whilst being perfectly attuned to modern living. 
Each Tide Chair is finished, assembled and stamped in our London workshop, before being shipped to around the globe. With a commitment to sustainable practice we use recycled packaging and plant a tree for every piece sold.