true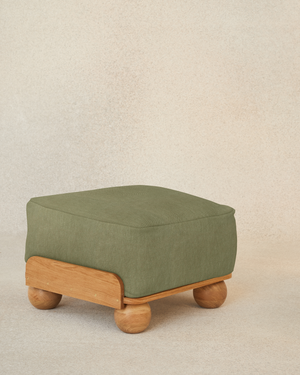 Cove : Footstool
The Cove Footstool is a simple, arm- and backless seat to put your feet up. The Cove Footstool can be combined into a daybed of any length or paired with the Cove Slipper or Armchair to make a chaise.
Like its Cove siblings, the Footstool reveals all its components—this time its single cushion and casing of beautifully grained oak at two sides with curved edges. The cushion provides a generous landing pad made of feather and foam atop a strong jute webbing foundation and four bun feet.
The low-pile boucle wool upholstery is custom made exclusively for the Everyday Collection in collaboration with Tibor and yarn-dyed in colours drawn from the Dorset landscape. Throughout the piece, softly rounded wooden edges play with light and shadow.
Each Footstool is finished, assembled and stamped in our London workshop, before being shipped to around the globe. With a commitment to sustainable practice we use recycled packaging and plant a tree for every piece sold.
Pair with more from the Collection